What started out a few years back as a small idea has now grown to my largest re-enactment venture!
One fateful winter night, around a campfire after a WW2 re-enactment we attended as spectators, we decided to also start doing WW2 re-enacting. But because German kit is so expensive, we decided to do a non-combatant unit, a Kriegsberichtertrupp (war reporter section) of a Wehrmacht Propagandakompanie (PK). "At least we won't have to buy Y-straps" I said...
Now four years later we have a full immersion camp with everything from authentic underwear to a period vehicle and need a truck to carry all our gear! (But att least, I still don't wear Y-straps...)
COMPOSITION
A war reporter (Kriegsberichter) usually worked at divisional or regimental level in conjunction with a cameraman (Bildberichter) and a driver (Kraftsfahrer). These three men constituted a Propagandatrupp or Kriegsberichtertrupp. Several Truppen formed a propaganda platoon (Propagandazug or Kriegsberichterzug) at corps level, while several propaganda platoons constituted a propaganda company (Propagandakompanie) at Army level. Our little group initially consisted of the following:
(a) A Sonderführer as Bildberichter (war photographer).
(b) An Unteroffizier as Wortberichter (war reporter).
(c) A Kraftsfahrer as driver.
As the group expanded the following individuals have been added at some events:
(d) A Leutnant as Lautsprecherberichter (loudspeaker operator).
(e) A Gefreiter as Film-Aufnahmeberichter (film reporter).
(f) One Russian "Hiwi" (Hilfswilliger) to translate Russian propaganda and polish the boots!
We also get frequent visits from a Kriegspharrer (chaplain), while we are currently planning to recruit one or more EM Betreungstrupp (welfare troops) to show movies etc. at re-enactment events.
VEHICLE
Typically a propaganda company had the following vehicles:
(a) Two small cars (Volkswagen) - one for the company commander.
(b) One large car.
(c) One mobile movie truck.
(d) Four mobile movie outfits on trucks.
(e) One ration truck.
(f) One office truck.
(g) One field kitchen.
(h) One clothing truck and armoury.
Our re-enactment unit is focussed around one such period vehicle. Due to the scarcity of original Second World War German vehicles in South Africa, a Kdf-Wagen Type 82E light staff car (leichter Personenkraftwagen) was reconstructed from a later model Volkswagen Beetle. The vehicle is fitted with a roof rack that carries our field and reporting equipment. For some events the vehicle will also be equipped with a set of loudspeakers installed on the roof rack to use it as a Lautsprecherwagen.
PHOTOS
Our first Kriegsberichtertrupp display: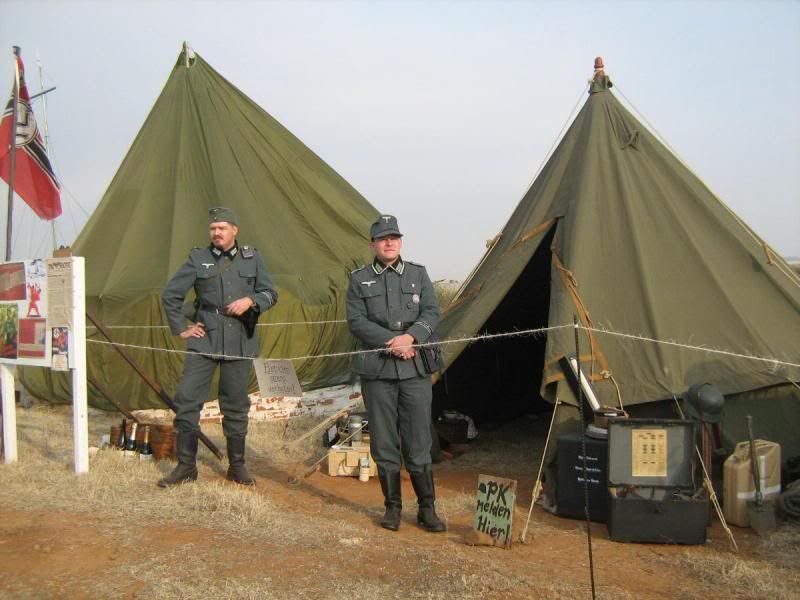 Das auto:
"Unsere Hiwi" listening to Russian propaganda transmissions:
Our impressive Kriegspharrer:
Being a rear echelon group (REMFs as the 1st SS "Reich's Finest" re-enactors usually refer to us) certainly does have its advanages!
In the Free State, our conditions are almost similar to the Russian Steppes with winter temperatures easily dropping to -9 deg C.
Fortunately not all 1940s Contreau bottles were filled with explosives for the Fuhrer...
Some action photos taken at our re-enactments:
Photos taken with an original 1940s Zeiss and hand developed:
"Full immersion" weekends we live 100% 1940s style with everything in our camp as authentic as possible. Our camp and Das Auto:
Our 1940s DJ: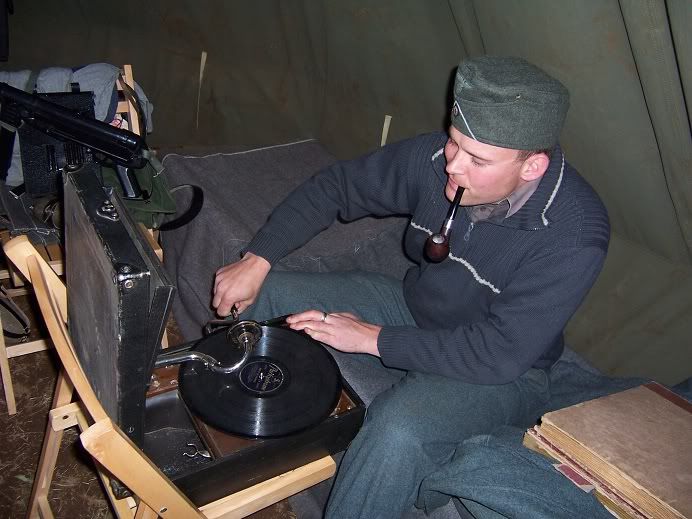 The lodging over the weekends are basic:
Our little wood stove keeps us alive in the sub zero winter nights:
The LSAH from the Cape Town "Heritage Group" visits us with their Kubelwagen:
Light camp duty:
[/
What we do best!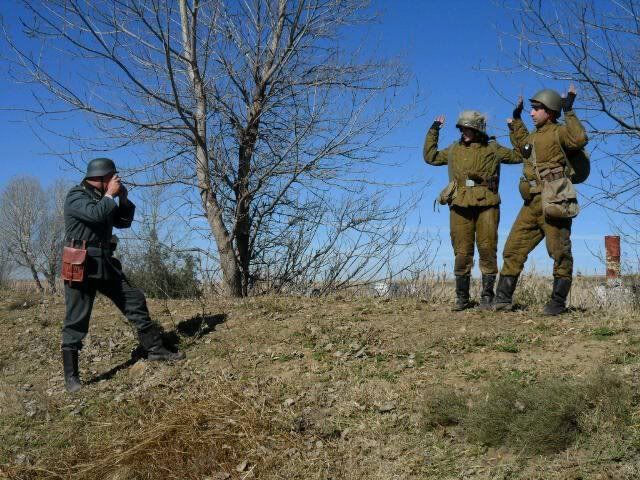 Grüße!
MC Heunis
Sonderführer Bildberichter
GD Kriegsberichterzug
Wehrmacht Propagandakompanie
Living History Unit
Bloemfontein, South Africa
kruppgun@yahoo.co.uk
[/quote]