Here are just a few pics of Italian 'web' gear we use...
Standard Carcano ammo pouch, worn at the front with a neck loop for support. Grey green leather, and holds around 48 rounds in clips. There are metal strengtherners that also fit the pouch, but do not allow clip ammo to be inserted, so we conclude that it was used for parade purposes only. Italian ammo cartons can also be fitted directly into the pouch, but limit the round capacity as they are suppllied in 3 X 6 clips in one cardboard box (36 rounds to one pouch set)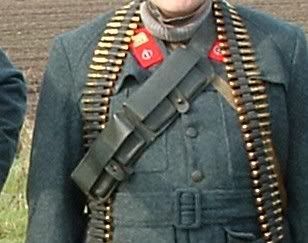 Ammo bandolier, used mainly by Artillery and specialist troops (Such as motorcyclists). Ammo capacity is theoretically 48 rounds, but its tight.... damn tight. Grey green leather in construction, but brown leather ones are known to exist. Smaller pistol pattern ones also exist, and were supplied to tank crews. Used in the late war period by RSI troops due to chronic shortages of everything.
MAB 38a ammo pouch. A copy of the MP40 pouches. Coarse canvas and grey-green leather in construction, but full webbing ones do exist. (The flap is made from wide webbing belt material, and closed with a plain buckle). Slightly longer than the MP40 pattern, so as to accommodate the larger 40 round mag of the MAB38a. Original examples fetch a pretty penny as they were fairly scarce in the war, and more so now. They are made to be worn as a pair, but photo's seem to show just one being worn, and mainly the right sided one.
6 pocket pouch for MAB38a/42. Canvas in construction, with grey green leather closers. Large flap covers all mags. Pouch could be worn on the belt or over the shoulder with the strap provided. Mainly worn by elite units such as Decima Mas Marines or Paracadutisti. Another rarity in todays collectors market.