Here is the story on the Czech light machine guns used by the Wehrmacht, from what I have been able to gather. The ZB-26 machine gun was developed in Czechoslovakia in the 1920s and used by the Czech military and also exported to other countries. Further development of the ZB-26 resulted in later versions including the ZB-30. A major customer of this latter model was Yugoslavia with 15,500 weapons bought. Romania (a later ally of Germany on the eastern front) also bought 17,131 of these ZB-30 machine guns. When Germany occupied Czechoslovakia in March 1939, the ZB-26 and ZB-30 were both incorporated into the Wehrmacht and Waffen-SS under the designations MG26(t) and MG30(t), the suffix (t) denominating a captured weapon of Czech ("tschechisch") origin. Altogether, the Germans acquired 31,204 ZB-26 and ZB-30 machine guns at that time, some sources indicate that the majority of the captured guns were the ZB-30 model. 1,500 of these guns were sold to the German ally Bulgaria, the others were issued to the various Wehrmacht branches and also the Polizei and Waffen-SS. Later, when Germany occupied Yugoslavia, they also captured some of the 15,500 ZB-30 machine guns that had been sent there, although it is unknown how many of these exactly were captured. Production of these weapons was continued under German occupation in Czechoslovakia and 10,430 were produced for the Wehrmacht and SS in 1939 and 1940. These examples cannot technically be considered "captured" but were actual German production. In 1941 production was switched over to the MG 34 and production of the MG30(t) / ZB-30 ceased.
Here's a cover of a Wehrmacht manual for the MG26(t) and MG30(t):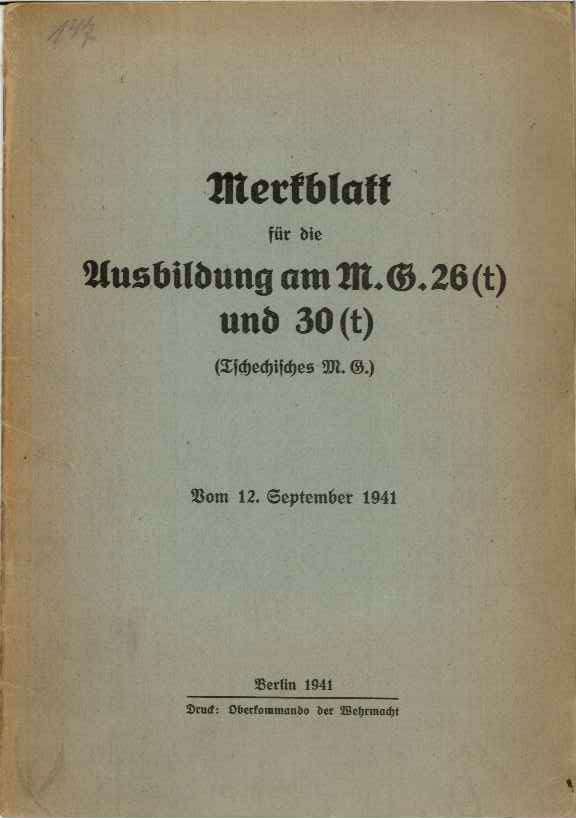 Some photographs of these weapons in Heer use. Some of these are training pictures but there are a couple of field shots in there as well.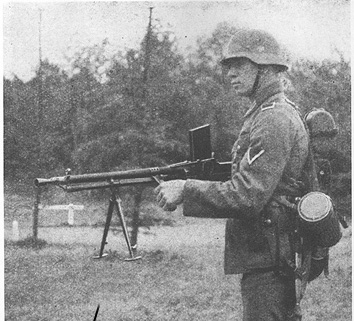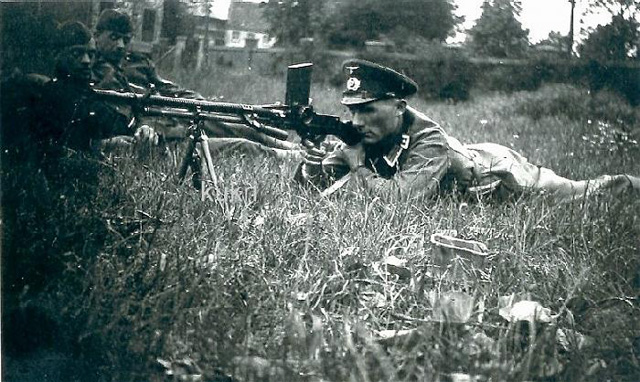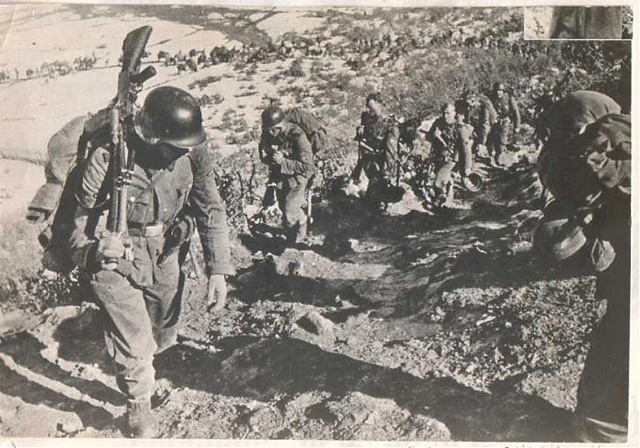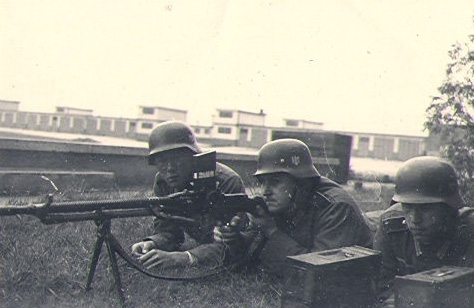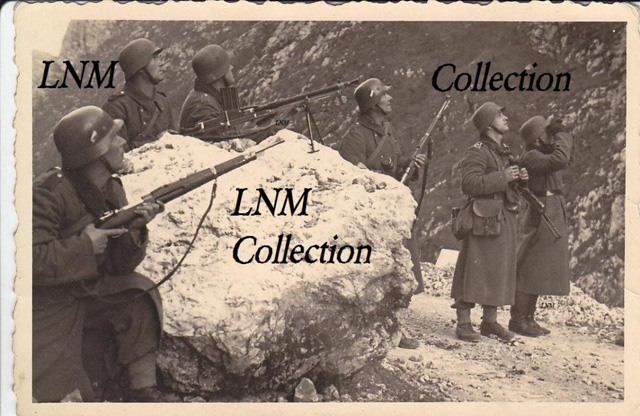 I've been looking in to what kinds of units were issued this weapon and have found some evidence in the form of original Wehrpaesse for soldiers who were trained on these guns. Here is one that I have for a soldier who served in Landesschuetzen and construction units. At one time his job was guarding POW camps. He was trained on the MG26(t).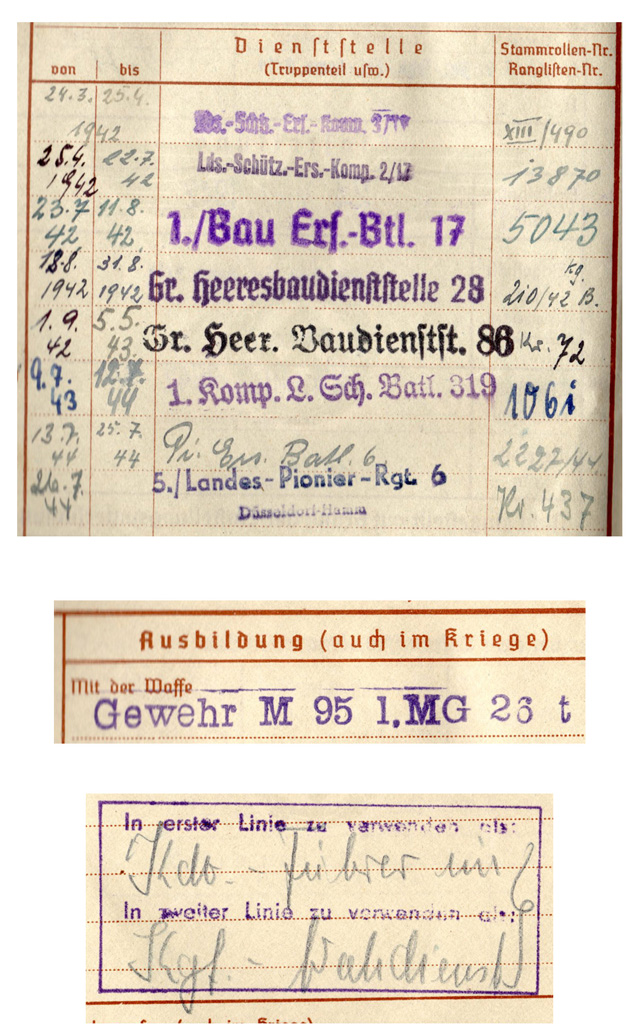 Here are scans from a Wehrpass for a soldier who was part of the occupation forces in the Netherlands, performing security duties as part of Sicherungs-Regiment 26. The weapon training entry is simply "le. M.G. (t)," this could have been either a 26 or a 30.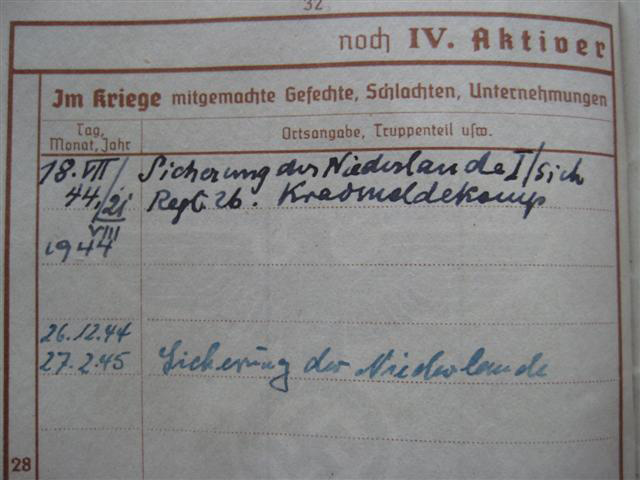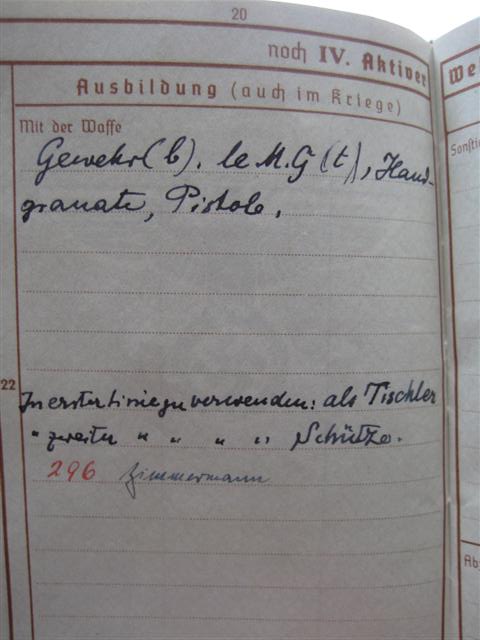 Here's one for a guy who was a Pak gun crew leader and Panzerjaeger in Grenadier-Regiment 895. The Wehrpass indicates he fought in the East and then was assigned duty securing the coast of the Atlantic and English Channel in France, later he fought in Festung Lorient. He was trained on Czech weapons including the MG26(t) (here listed as l. M.G. 26 (Bruenn), for the place where it was made), a Czech pistol and a Czech Pak cannon.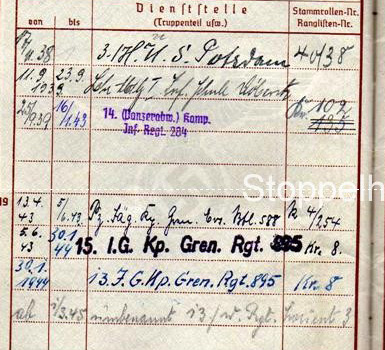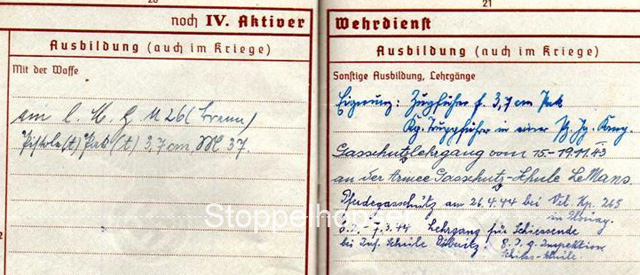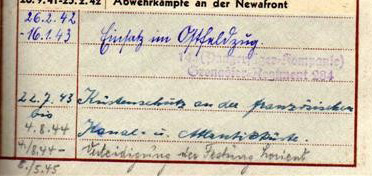 This is not the only documentation I found for these weapons being used on the Atlantikwall. German records for the island of Jersey in the English Channel show 4 x MG26(t) as part of the 'pool' of weapons for the 319. Inf. Div. stationed there. There were also 500 x MG34 and 200 x MG42 plus 200 other mixed MG types of mainly French origin.
From all of this I infer that the MG30(t) in the Heer was probably mainly issued to units assigned security functions, either guard troops, occupation garrison units, or coastal defence. I also think that deployment of this weapon might be justifiable at Eastern Front events as this weapon had widespread use in that theater of war, not only by the SS and Wehrmacht and the aforementioned Romanians but also by the Red Army who (I believe) had purchased some of these for use in the Winter War.