A selection of the gear I use for my 'French SS in Berlin' impression...
Waffen-Unterscharfuhrer, 33rd Pionere Kompanie, "Sturmbattalion Charlemagne"...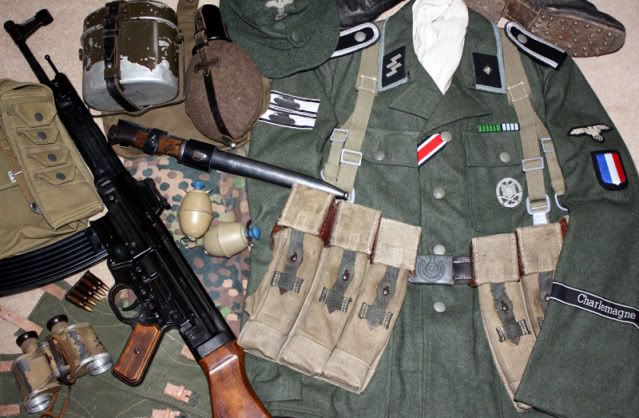 M43 tunic with late-war, mouse grey collar litzen and black piped (engineers) shoulderboards.
Standard W-SS runes collar patches and arm eagle, with SS pattern Tricolor arm shield.
BeVo made "Charlemagne" cuff title - worn in limited numbers by men of the combat engineer company after their return from training in Hradishko, Czeckoslovakia, prior to fighting in Pomerania. Also worn by a few NCO's and officers who attended training courses.
Vichy issue ribbons for the Croix de Guerre (green) and the Croix du Combattant (blue/black).