Good morning all!
Raining down here in Dorset
Right back to more interesting stuff! Yes The Pathfinder Magazine 2 is back - it has gone to print. This is now 48 pages and just 1 advert! The rest of the pages is just full blown content. We all learnt so much from our pilot magazine and thank you all who gave us feedback - all feedback is important so please do keep letting us know.
Also thank you to all who have taken out subscriptions - we have been a bit overwhelmed with that so much so that we had to do another print run

So what is new?
We have a lot of new and refreshing ideas that we will be bringing you over time.
OK OK - just tell us what they are!

In that case then I will tell you! A brand new website is being built and will be live next week. On it we will have a
blog,
we will have
Podcasts
and we will have
video introduction
by me for each edition so you can see and hear what is in each edition! And we are also looking at doing 'local' battlefield tour videos too - so you can click on the one that is of interest to you and watch it. They will be presented by you - the local or passionate historian - spread your knowledge and tell the world.

Furthermore
, we are looking at making a series of such titles and producing DVD's, under Pathfinder Films. These will all be professionally filmed and edited - we are excited about this as we can produce DVD's on vehicles, battlefields, re-enactments, collections and major and historic vehicle tours abroad or experiences like Armour & Embarkation. So please do keep your eye out for further details.
If you are good in front of the camera and you have great local knowledge or have a great collection or a story to tell then you have to get in touch with us! Make a difference and record history.
So what do we have in this Oct/Nov edition of TPM? Will tell you in a bit but wanted to share the front cover with you first........easy ladies!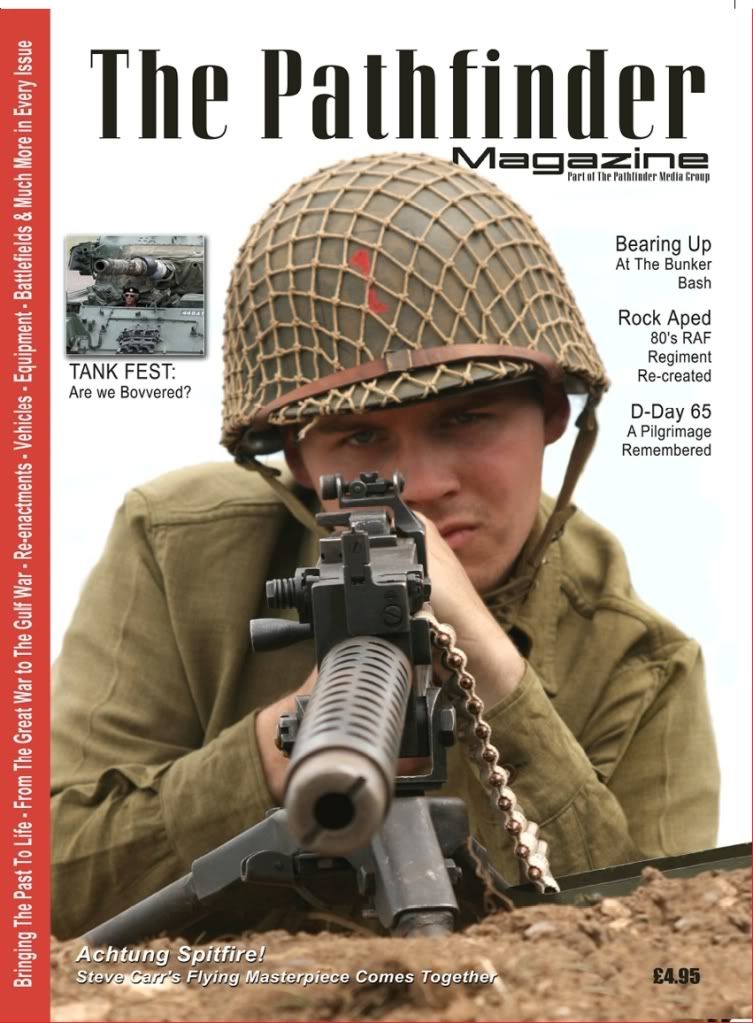 .
OK, so back to the content.
Yes by public demand
Glen
is back with his views on the
Normandy Circus
- a must read and I am sure will create some debate. I know, but we can't control him, we do try........
Ben Major
has stepped up to the challenge and begins a series of features on the diverse world of US Army Medical units during WWII. It is a serious to keep an eye and be prepared to learn.
Rob Langham
gives us a lesson in Egyptology - you will be surprised by this story...
Stev Carr
goes way beyond Airfix and winds up in a duet with Rupert Fox, proving that The Pathfinder does have the X-Factor.
Many Fox
received a sheaf of plaudits for her basket of goodies in July so she has come back with more life during wartime.
And that is just to name a few articles and there are a few surprises in this edition too. And please see below for our money back guarantee!